Kusatsu Hot Springs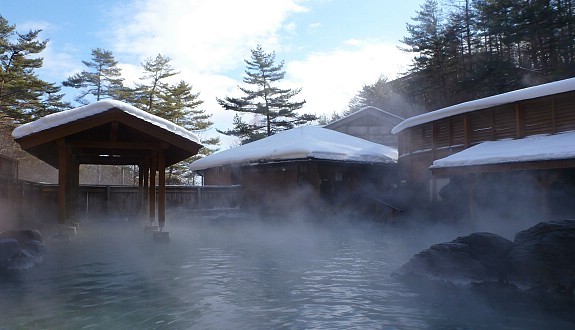 Kusatsu has the largest natural flow of hot spring water in all of Japan, much of which surfaces at the Yubatake in the town center. The sulfurous, highly acidic waters have been considered among Japan's best for centuries, and the resort town has constantly occupied a top spot in onsen rankings. It is difficult to beat Kusatsu in terms of quality and quantity of its waters.
Kusatsu's waters can be enjoyed at the town's public baths and ryokan. The most prominent public baths are the Sainokawara Rotemburo (large outdoor pools in Sainokawara Park), the Otakinoyu with its unique Awaseyu baths that features multiple wooden pools with different water temperatures, and the Gozanoyu, a beautiful wooden building next to the Yubatake with two simple, traditional baths.
The Awaseyu indoor bath at the Otakinoyu bath house
Besides these three large public baths, there are more than a dozen small community bath houses scattered around town that can be used for free by both the locals and tourists. They tend to have small, gender separated pools that typically sit only 2-4 persons and are filled with very hot water.
Two of the small community bath houses offer a special bathing experience called jikanyu (lit. timed bath), a bathing therapy unique to Kusatsu, where a group of bathers bathe in very hot water (typically around 48 degrees Celsius) for exactly three minutes. The hot water's benefits include opening your pores and increasing blood flow within your body and to your brain.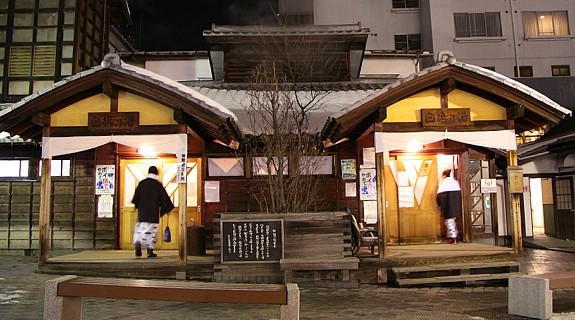 Shirohatanoyu, one of Kusatsu's many small community bath houses
Of course, Kusatsu's waters can also be enjoyed at ryokan baths across the town. While staying guests can use the baths for free during their entire stay, some ryokan also open their baths to non-staying visitors during daytime for an admission fee of typically 500 to 1500 yen.
Lastly, there are a few foot baths (ashiyu) found in town that can be used freely by tourists. One of them stands next to the Yubatake, while another can be found just outside the bus terminal building.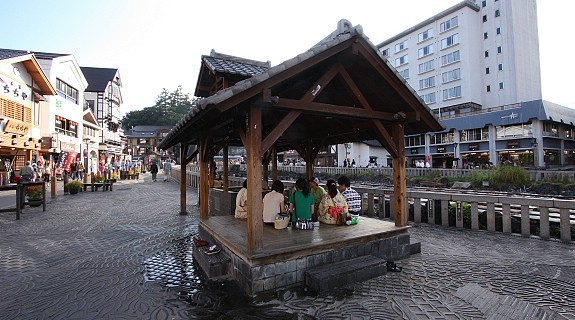 Foot bath next to the Yubatake
Other bath related attractions in Kusatsu are the Onsen Museum on the third floor of the bus terminal, displaying the history of onsen and Kusatsu town, and Yumomi, a traditional method of cooling down the hot spring water to bathing temperature that includes dancing and singing. Performances are held daily and can be viewed at Netsunoyu.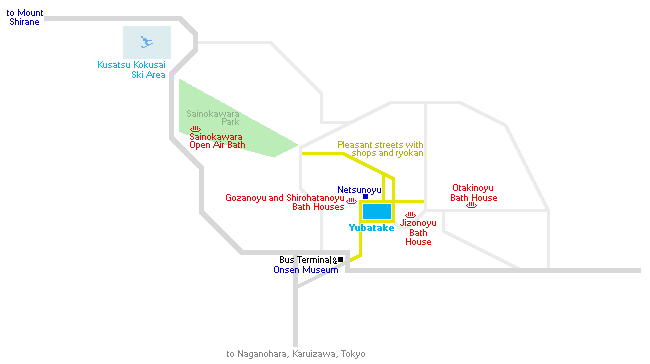 Sainokawara Rotenburo
10 minute walk from the Yubatake
Closed for renovation from November 4, 2014 to May 29, 2015
Hours: 7:00 to 20:00 (Apr to Nov), 9:00 to 20:00 (Dec to Mar)
Admission closes 30 minutes before closing time
Closed: No closing days
Admission: 500 yen
This large public open air bath (rotenburo) in Sainokawara Park is one of Japan's largest and wide enough to accommodate more than 100 bathers. It offers nice seasonal views, especially of autumn colors in fall and snowy forests in winter.
Otakinoyu
15 minute walk from the Yubatake
Hours: daily 9:00 to 21:00 (entry until 20:00)
Closed: No closing days
Admission: 800 yen
This public bath house offers a variety of gender separated indoor and outdoor baths. The main attraction is Awaseyu, traditional wooden indoor baths with multiple tubs with water differing in temperature (from 38 to 46 degrees).
Gozanoyu
Next to the Yubatake
Hours: daily 7:00 to 21:00 (entry until 20:30)
Admission: 500 yen (bath only), 2000 yen per hour for private tatami room rental
Opened in 2013 next to the Yubatake, this wooden bath house offers one stone bath and one wooden bath that are switched between the genders on a daily basis. Each bath consists of two pools that are fed by different types of thermal waters. At an additional charge, bathers can relax in a tatami room on the second floor.
Shirohatanoyu
Next to the Yubatake
Hours: daily 5:00 to 23:00 (closed for cleaning around 8:00)
Admission: Free
One of the many community bath houses, Shirohatanoyu is located right next to the Yubatake and the Gozanoyu bath house. It has two small baths that fit 2-4 people each. The water is very hot as it comes directly from the spring.
Jizonoyu
5 minute walk from the Yubatake
Hours: daily 8:00 to 20:00
Admission: Free
Jizonoyu is another of Kusatsu's community bath houses. It lies just a five minute walk along a few side streets from the bottom of the Yubatake. Frequented by locals, the facility's small, gender-segregated baths are filled with very hot water from the spring in front of the building and fit about 4-6 people each. Jizonoyu is one of the local baths that offer Jikanyu timed bathing therapy sessions.
Ratings:

best of the best

best of Japan

outstanding